Nothing can be more overwhelming than the death of a loved one. The ability to make informed choices can help you along this path. Bringing family and friends together to celebrate a cherished life is part of the healing process, and best served through a personalized ceremony and tribute.
When choosing cremation, it is important not only to capture the memories and celebrate the spirit of your loved one, but also to provide healing through gathering together, paying tribute, and celebrating a life well lived. Our primary mission is to ensure that this special, emotional, and necessary time for healing receives the utmost attention. We are here to provide guidance and knowledge, lighting the path as you commemorate the life of your loved one.
Ceremony Brings Hope and Enlightenment
Meaningful ceremonies with personalized memorials can be as unique as the loved one being remembered. We will help guide you through the process of creating a ceremony that ultimately provides a meaningful experience and leads to healing.
Personalizing the Ceremony
Ceremony is a way to inform the community of a loved one's passing, tell their story, and celebrate their life. Whether simple or elaborate, traditional or contemporary, a ceremony is most meaningful when it reflects your loved one's relationships, hobbies, and the moments you shared together.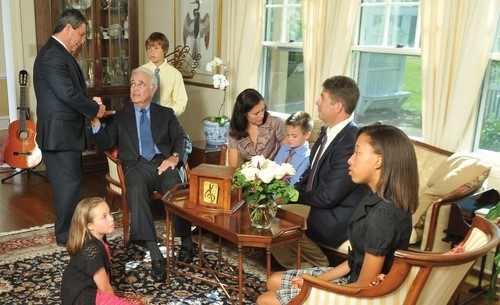 Memorializing your loved one may include one or any combination of the following choices:
Conventional
A community gathering, visitation, and personalized tribute that occurs prior to cremation. This is a time for family and friends to visit, share memories, and show support.
Memorial
A community gathering following cremation. A meaningful program invites family and friends to visit and reflect on the moments they shared with your loved one.
Private
A small gathering and informal identification takes place in a private setting and allows the opportunity to say goodbye prior to cremation. These options are intended to provide guidance in designing the desired personalized tribute.
Memorialization and Selecting the Final Resting Place
Whether you wish to memorialize your loved one with a personalized memorial, a piece of jewelry, or a special keepsake, a lasting memento will remind you of your time together.
Memorial Urns
The urn is another required selection and becomes the final resting place for your loved one. There are many styles and materials to choose from, in addition to many personalization options. The selection of the urn typically complements the final placement, whether buried in a cemetery, placed in a niche, placed as a treasured touchstone in the home or garden, or can be an ideal medium to facilitate ceremonial scattering.
Personal Memorialization
Many families have expressed an interest in providing multiple memorials, keepsakes and remembrance jewelry for individual family members and friends. These personal memorials are meaningful ways for sharing a tangible remembrance of a loved one. You may include within these personal memorials a small token of your loved one's cremated remains, crushed flower petals from the service, earth from the burial site, or nothing at all.